Cartoons have been around for quite some time now and they will always remain a part of our childhoods. There is no denying that when you first saw these characters on your TV screen or paper newspaper, it was love at first sight! This article takes an excavation into the history behind popular animal cartoon characters in order to refresh our memories about them while also providing new insights into their origins with things we never knew before
Even in our adult age, we love to watch our childhood cartoons because it is pretty fun to watch. All those cartoon characters were just amazing to watch.
As we all know cartoons are since the 1900s and with the passage of time they evolve. The first-ever cartoon was created by Emile Cohl. Since then it made our weekend morning amazing and memorable. With such love and entertainment, we cannot get over them ever.
Cute Cartoon Characters | List of Kid's Favorite Cartoons
Cartoons Provide You Best Learning
These cartoons are not only for kids but also for adults because there are always hidden messages in each episode of every cartoon. This is the point when we enjoy the cartoon and also learn from them. We can learn colours, names, and much more.
However, through the animal cartoon characters children can learn about different animal names and their specific characteristics. It's a fun activity even for adults.
What Else Do You Call Cartoons?
In US (United States) Cartoons are not commonly referred to as "cartoons" But they are called Funnies and comics. The creators of these Comics strips as well as comic books which are graphics novels are referred to as cartoonists. They create cartoons for their audience. In the Late 20th century cartoons were also referred to as animations.
The List of Our Favorite Animal Cartoon Characters
Cartoon animals are appreciated and loved by every generation. Over the past 100 years, various animal characters grace our screens, books, etc with so much entertainment. They change the perspective of people that even wild animals are loveable.
No matter what your age, there's something special about animal cartoon characters. Maybe it's their innocent expressions of cute antics, but these furry (and sometimes not-so-furry) friends always seem to make us smile. While there have been dozens of memorable animal cartoon characters over the years, we've compiled a list of our all-time favourites.
Garfield
This Garfield spawned from the creation of Jim Davis. Back in the 70s, this cat (Garfield) made an appearance for the first time in the movies, video games, and televisions. You can also see this cat in comic books as well as strips. Garfield is lazy and food-obsessed, this is its main characteristic.
However, there is no doubt that this orange tabby cat made us all laugh and this is one of the most renowned animal cartoon characters. As when we see and judge his pessimistic outlook on life and also his tormenting attitude towards his fellow oldie. The coolest animal cartoon character of all time, indeed.
Finding Nemo
In 2003, the Disney Pixar animated film Finding Nemo hit the big screen. This little clownfish is loveable among young children and also adults. The curiosity to go into the blue deep sea and experience the adventure is nothing but the biggest of this little fish (Nemo).
Moreover, Nemo is popular fish now because it is a modern-day classic and close to our hearts. This is the best animal cartoon character of all time.
Tom and Jerry
How can we forget our favourite cartoon network show Tom and jerry? This is a wonderful tale of a cat and a mouse which emerged first back in the 1940s. In the Tale of cat and mouse, Tom and Jerry are mentioned together in one entry, they really can't be separated.
The grey and white cat tom and the brown mouse jerry with their tricks never lose a chance of entertaining us. However, jerry is wise and witty and always ready to trick tom.
Top Cat
The one cool character of all time is a top cat which we know as T.C. This cat always tricks other cats and avoids getting in trouble with the local police of the era that is Officer Charlie dibble. The original series produced only 30 episodes and this top cat is also featured in different comics as well as books. In 2011, the top cat came back in the movie to entertain its fans.
Snoopy
The classic cartoon series Snoopy the dog is no doubt one of the most recognizable characters in the world. It is from the comic strip peanuts. This is created by Charles M. Schulz and definitely made us chuckle for like 50 years. Fan-favourite animal cartoon snoopy.
Mickey Mouse
From the area of Disney classic Mickey Mouse is one of the favourite animal cartoon characters of all time. This mouse is a golden oldie created by Walt Disney and the best among all. It first came into the public eye back in 1928 (animated film Steamboat Willie).
As we all know the appearance of Mickey Mouse, it is yellow shoes, red shorts, circular ear, and white gloves. Due to its signature look, it became the mascot of the Walt Disney Company. We also have to give a shout-out to his equally iconic girlfriend, Minnie Mouse. These two have been inseparable since they first appeared onscreen together, and their adventures continue to entertain us to this day.
Woody Woodpecker
In our animal cartoon characters list we have almost mentioned, cats, dogs, fish, and mice, but here is one more and that is the woodpecker. You may remember this entertaining character from his earlier days in the cartoon Knock Knock, back in the 1950s TV cartoon which we still know as The Woody Woodpecker show.
Moreover, if we talk about this bird then this smart bird had the great ability to adapt to any environment. Also, outwit his opponents' in any challenging situation. The most fearless bird, indeed.
Puss in Boots
The adorable and cute cat uses wide eyes and gives such expression that can melt any heart even if those hearts belong to his enemies. Puss in Boots is the actually bold, brave, and defiant cat. Always armed with a sword, traditional cape, and of course his boots.
This wide eye cartoon tabby cat would definitely give Garfield a run for his money. No matter what the size of the boots, this puss-in boots cat is always prepared to fight.
Bugs Bunny
The most favourite rabbit is a bugs bunny even today. His popular dialogue is "Eh…. What's up doc?". This was first featured in Warner Brothers' series Looney tunes and also in the merrier melodies short films.
The cultural icon bunny bug wins the heart of every person sitting around the globe by his wittiness and tricks.
Odie The Dog
Odie, a fictional dog has made its appearance within the cartoon series Garfield by Jim Davis. He has a big tongue, brown ears, and yellow fur. It surely is a great animal cartoon character children love to watch from the past till the date.
Funny Looking Cartoon Characters of All Times
Animal Cartoon Characters As Humans
The cartoonists have the power to create whatever they want. That is the beauty of cartoon characters. There are even robots, aliens, cars, food, sponges, etc but animals are the favourite ones. The question is do they think like humans?
Well yes, this is the beauty of cartoons we can fill each character with our immersive thoughts. Such as:
Penguins of Madagascar
These penguins have extraordinary human skills. They think like humans and act like humans. They stole a whole ship with teamwork and brilliant strategy which is of course not a piece of cake. Then in the third tv series of Madagascar, they stole a plan which is not possible for any animal not even for humans to do such a task.
Kung Fu Panda
The fat panda by nature cannot do difficult tasks or climb mountains. But in the animated movie kung fu panda, one of the most remembered animal cartoon characters, the fat panda learns kung fu and fights with the enemies to save the city. This human-like characteristic is amazing and also a paradox in our real world. We can learn from this movie that there is no limitation when we really want something all we need is to work hard and be patient.
Wall-E and Eve Humanization
One cannot imagine a robot with so many emotions and feelings. Who stores the life in his pocket and helps to start a life on earth. The emotion and love of this robot show us how important it is to love and enjoy every little of our life as this is our basic need to live.
Who Is A Famous Cartoon Character of All Time?
There are many famous cartoon characters such as Winnie the pooh, Merrie Melodies, Donald Duck, and the pink panther cartoon. But no one deserves to stand on top but Mickey mouse the oldest and famous cartoon character of all time.
Since Disney classic era every single person in the entire world knows about Mickey mouse. This cartoon character is still well-known.
Who Is The Smallest Cartoon Character?
The smallest cartoon character is from the animated short motion movie which holds the world record for the smallest actor in the entire world. Surprisingly the name of the smallest cartoon character is stardust odyssey. This cartoon character Is 0.3 mm high and the size of this character is of the grain of dust which is no doubt invisible to the human naked eye.
What Is The Most Hated Cartoon Character?
No one can deny the fact that where there are so many famous and loved cartoon characters there are also some characters hated by the audience. The first one is slimmer from the movie Ghostbusters. Although there are many memorable moments in the movie but this guy or we can say the ghost is extremely annoying.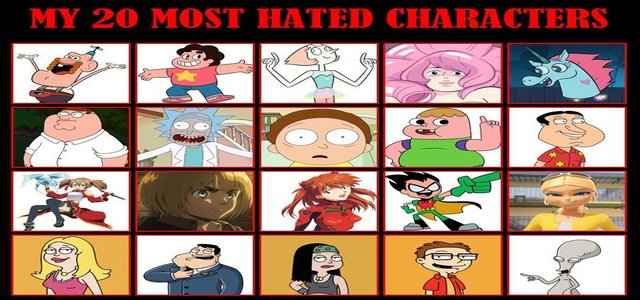 The Lion King, The Jungle Book, Finding Nemo, Zootopia… The list of our favourite animal cartoon characters goes on and on. Why do we love them so much? Maybe it's because they can remind us of our own pets, or maybe it's because they're just so darn cute. Either way, there's no denying that animal cartoon characters have a special place in our hearts. From the ever-so-serious Simba to the always-playful Dory, these characters have taught us valuable lessons about life, love, and friendship. They've made us laugh, they've made us cry, and they've helped us to see the world from a different perspective. So next time you're feeling down, be sure to pop in your favourite animal cartoon film – it might just be the pick-me-up you need!