It is essential to learn the central trick of how to unlock voltas ac remote. Whenever you install a new AC at your home or office, you might run into some trouble using its remote. Handling of remotes is complex because remote controls of different companies have different interfaces. However, it is easy to get a command on a remote of any AC, even though it might be confusing for new users.
Unlock Voltas AC Remote
To run your new AC efficiently and without any hassle, you will easily learn a lot from this article. As we all know, voltas ac is an inverter ac with a three-star rating, so it is becoming popular worldwide. But some users are confused about how to use its remote.
Sometimes, when trying to set voltas ac on fan mode or any other mode, you may give an incorrect command and accidentally activate the voltas remote lock; you are stuck with this problem. Let us explain to you via this article how to unlock voltas ac remote to fix the issue.
Check if your remote is locked
On a hot day, you pick up your ac remote control to turn on your air conditioner, but you quickly find that your air conditioner is not working. The first question that will come to your mind is that your voltas ac remote is not working. What to do now? This malfunctioning is not at all a serious problem. Just examine your ac display lock screen thoroughly. When you take a deep look at the remote control, you will see a blinking padlock on your remote. This is a sign of an active lock.
Confirmation about a locked remote
Usually, there is no problem with your remote control. What happened is that your remote control is locked. Now you are unable to turn on your air conditioner. Moreover, you can not run a command of your own choice now. You cannot select the mode of your choice or set the temperature accordingly.
A Guide to Unlock Voltas AC Remote
When all the issues mentioned earlier are happening, it is evident that the remote control of your ac is locked. So now, if you are wondering about your next step, do not worry and follow our simple and easy guidelines to unlock the remote.
Suppose the remote control of your voltas air conditioner is locked. You can turn off the lock using the temperature button in voltas ac remote. You will press the + and – sign of temperature. Make sure that you press both signs simultaneously. Hold both signs for a few seconds. Your remote control is ready to operate now. It is unlocked with this simple step.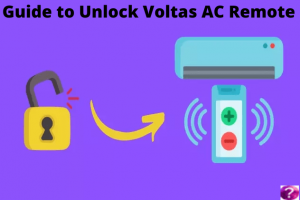 Click the power button while pointing the remote towards your ac. When the flaps of your ac are fully open, you can notice a small flower symbol on the remote control screen. This symbol indicates that the remote control is working properly, voltas ac remote lock is open and the cooling production is according to the set temperature. This guideline is a super easy process. You do not need a voltas ac unlock code.
Important Note
If you want to turn the lock on again, you will simultaneously press the buttons with + and – signs. So, the process to lock and unlock your remote control is the same. You can activate and deactivate the lock of your remote control for the voltas air conditioner with a simple long press on temperature increasing and decreasing sign at the same time.
The reasons behind locking your remote control
Some new users may accidentally trigger it or maybe there is accumulation of dust inside your remote control. There can be any reason. But the solution to this problem is undoubtedly super easy.
Also Read: Best Headsets for PUBG Mobile In 2022
Child Lock – An Amazing Feature
Voltas ac is a real consumer-oriented technology product. It considers all aspects of the life of its customers and then tries to provide comfort as much as possible. Therefore, voltas ac remote control has a great feature of child lock. Because little children's fidgeting habit often causes problems, applying a child lock on your voltas ac remote control is wise. This voltas window ac remote function can be quite handy.
Child lock is applied just like a simple lock. First, you must simultaneously press + and – signs of increasing and decreasing temperature. Afterward, you will see a sign of a lock on your remote control screen.
Now whatever button you press on your remote control, nothing will happen. Do the same process again to unlock your remote control.
How to Reset Voltas AC Remote? Different Modes
With the mode button, you can reset the temperature, humidity, etc.
Flower Symbol
When you press the mode button once, you will see a flower symbol. It is an indication of active cooling.
Droplet symbol
When you again press your mode button, you will see a droplet symbol on your remote screen, which helps to adjust the humidity of your room.
Fan symbol
When you press the mode button, and there is a sign of a fan on the screen, it simply means that the cooling feature of your ac is not active, and the ac is running just like a fan.
Sun symbol
And whenever there is a symbol of the sun on the screen, it means that ac is blowing hot air. As the name suggests, the Automatic mode adjusts all these settings independently.
How to Operate Voltas AC Remote?
Voltas ac remote has an ON/OFF button; with its help, you can turn on your voltas ac. The + and – buttons are here to increase or decrease the temperature. When you press both buttons simultaneously, you will activate or deactivate the lock of your remote control.
Fan button
In the third row, you will have a fan button that helps increase or decrease the fan's speed. On the right side, in the third row, you will have a swing button to set the direction of air. Buttons of timer on and timer off are here to automatically switch on or off your ac. After a particular time, you can increase or decrease time with the + and – buttons. Finally, a clock button on the left side will set a timer of your choice.
Blow and turbo button
When you feel the humidity in your atmosphere, there is a blow button to circulate the inner air of your split. If you need a super cool room, click on the turbo button.
There is a sleep mode button that is for night use. Because night temperature outside the rooms decreases gradually, your ac is intelligent enough to slowly decrease its temperature if sleep mode is on. The light button is here to get a better vision of your remote at night.
Ending Note
So by following the above given simple steps, you can easily unlock voltas ac remote control. Prevent children or other people from accidentally disrupting your ac setting. Learn all the features of the voltas ac remote and how to unlock voltas AC remote from this guide.
FAQs
How to start voltas ac without a remote?
You will find a button pad on your ac. Turn on the power button on the keyboard. It will start voltas ac without a remote.
How to remove lock from voltas ac remote?
To remove child lock from voltas ac remote, simple press the temperature increase and decrease (+ and -) buttons simultaneously. Hold the buttons for a few seconds and the remote will be unlocked.
How to start voltas ac without remote?
You can start the voltas ac without remote by using the buttons pad on the ac, simply press the power button on the an to turn it on. Alternatively, you can also use a mobile device with a IR sensor to turn on your AC.