Make-up is a daily life routine part of every woman. There are a lot of women who are facing problems due to their oily skin so let's talk about why we need a primer for oily skin.
Without primer, your makeup would not look good because it helps to set your base. When your base is smooth so any makeup look that you wear would definitely be classy.
The good quality primer tackles the areas of high shine. Also, it will reduce the appearance of fine lines and pores on your face. You don't have to care about patchy foundations after applying a good primer.
As a girl, you struggle every day to keep your makeup in place because of your oily skin. There are incredible mattifying hero products there for you to cope up with your oily skin issues. We can't be more agree that a good primer is a lifeline that any woman ever needs especially for an oily complexion.
A good primer stops your foundation from slipping from your face. It helps to keep your base smooth and amazingly flawless for a longer time.
Oily Skin
Oily skin is the constant battle to keep your skin safe from melting off. For this, you have to do keep your makeup all the time whenever you go out.
The over-production of sebum from sebaceous glands causes the oil on your skin. These glands are located under your skin surface. If we talk about sebum then it is an oily substance that is made of lots of fats. Sebum is not bad because it also helps to protect your skin and also moisturize the skin.
This sebum also keeps your hair shine and healthy. The excessive production of these sebum makes your skin oily more than your skin requires. This can lead to clogged pores and may cause acne.
What Causes Sebum Production?
This may be due to Genetics, hormone changes. Also when you have stress then it may also increase sebum production. To cope with these issues there are so many home remedies and also good products to use on the face.
Primer For Oily Skin
In hot humid weather, you just need a primer if you have oily skin. Oily skin can be a challenge to deal with. Not only is it more prone to breakouts, but it can also make makeup feel heavy and greasy. The good news is that there are some great primers out there specifically designed for oily skin. These products help to control shine, minimize the appearance of pores, and even out skin tone. As a result, they provide the perfect foundation for a flawless makeup look. If you have oily skin, it is important to know the right type of makeup for your skin.
In addition, primers can also help to extend the wear time of your makeup, keeping you looking fresh all day long. So if you're struggling with oily skin, be sure to give one of these primers a try. You'll be glad you did!
As per Vincent Oquendo, the ambassador of the Maybelline New York.
These makeup primers are applied right after skincare and before foundation to the prepped skin and this is the only product that helps your makeup last longer throughout the day.
As per Birnur Aral, The Ph.D. director of the good housekeeping institute of beauty lab says "There are many products especially for oily skin these generally contain absorbent particulates that soak up oils from the skin and have a more powdery feel".
This lab tests almost hundreds of skincare and also beauty products.
There are many primers for the skin but we listed the 7 best primers for oily skin. These primers helps you to cope the issue of daily oily skin.
Smash box Primer
The famous Smash box Photo Finish Oil and Shine Control Primer is the best primer in the market. This brand is an award-winning photo finish primer. As it is best in the business because it has a gel to powder version especially for oily skin.
Yet includes all the necessary items to tackle heavy breakouts. You can also find witch hazel as well as salicylic acid. They carefully make this primer for oily skin.
Laura Mercier Primer
The other best primer company is Laura Mercier Pure Canvas Blurring Primer. It is One of a range of targeted primers you can ever find. The special blurring formula from Laura Mercier is oil and silicone-free which means it won't feel heavy or peel on your skin when you applied.
Moreover this primer is Best of all because it absorbs excess oil for a natural-looking mattifying effect. This primer helps your make-up go on extra smoothly.
Plus Mattifier
This Bobbi Brown Primer Plus Mattifier is popular for oily skin.
The fantastic primer gives you a semi matte finish. It doesnt dull your complextion. If you have a combination of both dry and oily skin the best primer is bobbi browns primer.
The formula used in it helps to control both the dry as well as oily areas of your face.
Ordinary High-Adherence Silicone Primer
This primer is Highly recommended for oily skin. Because of this primer, the Ordinary's cult-status is celebrated for keeping your make-up in place for a longer time.
Also helps to manage your complexion by keeping it hydrate while still mattifying. This thing will keep your skin shiny and glowing during all day. When you use this primer you it helps to blur the pores and fine lines.
Nars Primer
Nars Cosmetics Pore & Shine Control Primer is also one the most popular primers for oily skin issues. This primer used soft focus powders which helps to absorb excessive oil from your skin. It gives your skin a photo-ready finish because the Nars and balancing primer is lightweight as well as oil-free.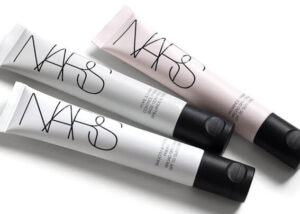 Guerlain L'Essentiel Primer
One of the prettiest primer is Guerlain L'Essentiel Pore Minimizing Shine-Control Primer. It's bottle is so elegant that it attracts the customer's eye. The formula of this brand for primers is not only mattifies your skin but also benefits your skin. This primer protect your skin against pollution just like a shield. Provides you smooth complexion over time.
The Silk Canvas Protective Primer
The best part of this primer is it comes in the balm form which is of course easy to swipe on. Very popular Danusia Wnek, chemist at the GH Institute of Beauty Lab. says, "It is practically the only primer I have tried that doesn't make my makeup run," and "It keeps your foundation locked, and minimizes the look of pores and keeps me matte all day.
There is also a learning curve with this one: Less is more and I tap it does (not rub) into the T-zone area of skin you must be careful. I can absolutely notice a big difference when I use it and when I don't with product application, look and longevity."
How do I choose a primer?
You must know your skin type before choosing any primer. If you have a mix of dry and oily skin then go for different make-up brands to know which primer would be best for your skin.
Just keep in mind a few steps.
If you have tanning-affected skin, then you should use a color-correcting primer. This will help you even out your skin and give you a flawless base throughout the day.
Otherwise, you can use a transparent primer. We want to inform you that Pink color primer will give you natural blush complexion, and peach color primer for oily skin will hide hyperpigmentation or dark circles. And green primer will reduce redness or sunburn effects on the skin. And your foundation will not look patchy or tuning into grey.
The best primers for oily skin are those that contain ingredients that mattify the skin and help to control shine. They should also be oil-free and non-comedogenic, so they won't clog pores or cause breakouts.
In addition, look for a primer that contains silica, which is a natural absorbent that can help to control excess oil production. With the right primer, you can keep your face looking matte and shine-free all day long!
Some Prevention For Oily Skin
When it is caused by genetics or hormones then it is tough to prevent as this can only be cured when you eat healthily or see a skin specialist. You have to be consistent when it comes to caring for your skin. Avoid as much unhealthy food as you can. Foods that are high in sugar, fried foods, etc.
Using heavy cosmetics all the time may cause your skin condition to worse. But if you use good products it may help to cope with your oily skin problem for a little time.
Wrap Up
Oily skin is a common skin type that is marked by excess sebum production. This can lead to the skin appearing shiny, feeling greasy, and being more prone to breakouts. If you have oily skin, you may be wondering what the best way to deal with it is. One of the best things you can do is to use a primer before applying makeup. A good face primer will help to control shine, minimize the appearance of pores, and keep your makeup in place all day.
There are a number of great primers on the market specifically designed for oily skin, some of them we already mentioned in this article so finding one that works for you should be easy. In addition to using a primer, you can also try blotting papers or mattifying powders to help control shine throughout the day. With a little trial and error, you should be able to find the combination of products that work best for you and helps you to achieve a healthy, balanced complexion.