How to delete Reddit History in 2023? Are you fond of reading or writing, or do you spend a lot of time exploring the internet? So, you must know about the face and front page of the internet. Yes, we are talking about the seventh most popular site in the United States, "Reddit."
It contains a collection of forums. There are many forums where people can share breaking news, fantasy stories, conspiracy theories, sports, and amazing content on the internet. There are endless communities to share and read wholesome content. This makes it the 19th most visited and popular site in the world.
If you are a new Redditor, you might be concerned about your privacy. As it's a public website, your comments and posts will be shown to everyone. If you want to preserve your virtual life on Reddit and hide your posts and comments, follow our guide on how to delete Reddit History in 2023.
Does Reddit store our history?
Yes, Reddit does keep track of your activity. It does not mean that the app will keep the posts but tracking your activity helps them to give you recommendations and advertisements.
You can see your comments and posts by opening your Reddit account and selecting the "My Activity" option.
Can anyone see my history on Reddit?
Yes, as we mentioned earlier, Reddit tracks your activity. It records your posts, comments, submitted content, and browsing information and places it on your profile. Anyone who can click on your profile can see this information.
They can also locate your identity, place, and browsing interest by using extensions. Perhaps you can try these points below if you want to delete your history.
How to delete Reddit account history?
Sometimes we don't want to be tracked down or don't want anyone to know about our personal space online. If this happens on Reddit, there is no default option provided by the app. Deleting history can only be done by deleting your entire Reddit account.
It doesn't completely remove your data, but your comments and posts will remain nameless on the app. Here are some methods to delete your local history on Reddit so that your recent activity will not show up on your profile.
How to delete Reddit history on iPhone?
Launch the Reddit app.
Click on the Reddit profile icon
Tap on the settings
The menu will appear
Scroll down until you see clear local history
Click on it and then confirm deleting local history.
This will only clear reddit search history from the phone itself. It will not be deleted on any other devices. Your comments or posts on the Reddit app won't be deleted either.
How to delete Reddit history on PC or Mac?
Suppose you are using Reddit on your windows or Mac. You can try out these steps on how to delete reddit history on website.
Open your profile page by clicking on the icon in the top right corner of the screen.
A dropdown menu will popup; click on the overview option. It will redirect you to your profile to see all your recent activities.
Scroll down until you find the particular post or comment you want to delete from your profile
Select the three-dot option below the post, and a pop-up menu will appear.
Click the Delete option. They will ask you about the confirmation.
You should know, this step cannot be undone.
Repeat this step for further deletions.
How to delete activity history on Reddit?
Reddit tracks your data for recommendations; it captures your interests and shows you more content in similar niches. But after some time, our interests can change. So if you are dissatisfied with the content you are seeing, you can delete your history by following these steps on Android.
Launch your Reddit app.
Enter your details and log in to your account.
Tap on the profile icon. And then go to the settings.
A menu will appear; select the history option.
Then click Delete.
After the confirmation, your Reddit history will be deleted on your android phone.
I hope that you find your answers. But if you haven't, we have some more methods for you.
If you also wish to know how to clear your browsing history?
Just open the Reddit app. And log into your account.
Click on the settings and then select the history option.
Look for the option "clear all browsing history."
Tap on it, and your browsing history will vanish.
This will clear the browsing history. If you want to remove your searching history, here are the steps.
How to delete reddit search history?
Well, as you saw before. You can easily learn how to remove reddit history. Simply follow the given steps.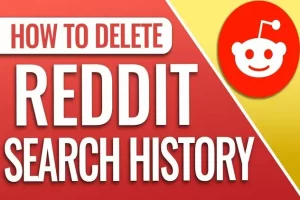 Open the Reddit website.
Go to the main page
Click your mouse button on the Search bar of Reddit.
Your previous search terms and subreddits will appear.
You can notice the little cross "X" sign at the side of your terms.
This is what you need. Click on it, and the search history will be wiped out.
It is the same method for deleting the search history on the iPhone. Follow the similar steps on your iOS app, and you are good to go.
How to clear your search history from an Android device?
If you like to browse Reddit frequently on your Android, but if you don't want to save your search history, try the similar steps mentioned above or use this method.
Go to the Settings.
Scroll down to the App manager and open it.
Look for the Reddit app. The app's metrics, such as memory ten, cache, and data, will appear.
Select the Clear Cache or similar option. That will clear your app data as well as your searching history.
There are also several Extensions available for deleting Reddit history. You have to install them on your phone, enter your account information and select the Clear history option. It will work for you.
But if you don't want to delete your history and don't want to show your online persona to everyone, you can hide your posts and comments.
How to Hide your history on Reddit?
If you don't want to delete your post history on Reddit and refrain from this option, you can hide it. You can do it manually via an overview of your profile.
Go to the profile option by clicking on the circular blob on the top right corner of the screen.
Browse through the posts that you wish to delete from history.
Tap on the eye icon (labeled as hiding).
That's it. Your posts will be hidden now. Only you can see them. There will a prompt to undo it. You can leave it hidden until you change your mind.
Conclusion
We hope this guide will prove to be helpful. Now that you know how to delete Reddit history in 2023, you can use Reddit without the fear of someone peeking into your information.