You want to know how to hide someone on Snapchat? You're on the right page. We are aware of the fact that people want freedom from their busy world to relax and have fun. For this, most of us use social media to make new friends or influence people and make memories. But sometimes, even on social media, we run into judgmental people who make us uncomfortable.
Even if that is not the case, sometimes we simply want more privacy or hide our content from certain users. The simplest way to do this would be to block the person in question.
But perhaps that is too rude. If you are worried that it might give the wrong impression to people that you are trying to hide something from them.
Are you facing the same dilemma? There is a convenient solution to solve your problem, at least on the Snapchat platform. Continue reading to find out how to hide friends on Snapchat.
How to hide someone from your friend's list on Snapchat?
A few years back, Snapchat users had the privilege to see others' friend lists, similar to other platforms like Facebook. But many users did not like this feature and considered it an invasion of privacy. So, due to popular demand, Snapchat made the friend list private for all of its users. But you can still learn how to hide specific people on Snapchat.
Can anyone see our friend list on Snapchat?
Snapchat used to allow seeing mutuals between friends. They are shown right on a user's profile.
After a new update, you can only see the list of friends you interact with. So even if you wanted to show off your friend list, you are now out of luck.
Below are some easy methods to know how to hide someone on Snapchat.
How to hide someone on Snapchat without blocking?
Suppose you block someone on Snapchat. The app doesn't notify them about being blocked by you. They will only find out if they search your name and get the resulting user not found error. They will not be able to find your profile.
But there are other methods to hide friends on snapchat and maintain your privacy.
Chat Removal
Sometimes we don't want anyone to see a particular chat. We want to hide our conversation from random people or noisy siblings. In that case, we just have to clear the conversation after we're done chatting. It may sound tedious, but it will be worth it if someone accidentally opens your Snapchat.
Even if the chat is relatively old, if they scroll all the way down or search for the name of a particular person, they can still find the snaps or messages you have stored on your account.
Here's how to do it.
Open your Snapchat.
There will be a chat icon at the bottom; tap it to redirect to the chat page.
Look for the person you want to hide.
Long press on the bitmoji of that person, and an actionable popup will appear. Select more.
You can see more options, some of them are red, and others are written in black.
You will find "Clear Chat" at the fifth option, tap it, and the confirmation popup will appear. Go ahead and clear the chat.
Hide someone on snapchat
Often people forget that we are busy and become annoying at times. We might hesitate to tell them off out of politeness. Is there a person who keeps sending you snaps all day and wasting your time? And the idea of blocking them sounds pretty appealing. If you're wondering, how can I hide someone on snapchat? Don't worry. You can tackle this without outright blocking them.
Just open the app and log in to your account.
Open your profile settings by tapping on your profile avatar at the top left of the screen.
Scroll down to my friends option.
Find the friend's name that you want to remove from your list
Hold onto the name for some seconds. A sub-menu will appear.
Select "more" to view further options.
Then select the remove friend option.
The deed is done, and that person has been removed from the friend list. Also, Snapchat will not notify them of your activity until you send them a request and add them again.
Check Out: How Accurate is Snapchat's Snap Map? Facts to Know
Hide your snapchat story
Snapchat was the first platform to come up with the story post. It is available on almost every social media platform. Snapchat allows every user to see your story. The stories feature goes a long way to engage new users as they don't have a newsfeed to check.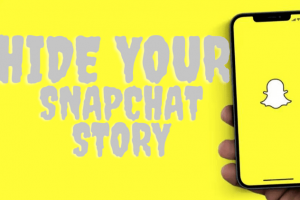 So. if you don't want any part of this and would like lesser engagement or perhaps you only want to share your story with particular people. You are not out of luck. You can simply opt-out of this feature. Here's how to hide someone on snapchat story.
Open the snap chat and load the profile page by tapping the avatar.
Click on the gear icon on the top right corner of the screen.
The setting page will be loaded.
Scroll down and open "View my story."
Change it from "Everyone" to "Friends" only.
You are good to go.
Hide your conversations
Snap chat is the only platform among the other social media that automatically deletes your chat (or snaps) after some time. But now, an new feature allows a person to save received the snaps. If the recipient saves the message, Snapchat will notify you.
Change display name
If you are talking to someone secretly and you're not allowed to lock your phone then hold on. Snapchat have the option to give your friends a particular nickname to hide their identity or keep them organized. The changed name will only be shown on your friend list. If you receive a message from that person, the popup notification will also display the modified name.
Conclusion
We want to protect our privacy while using social media. We can have various reasons to hide a chat or someone on our friend list. Sometimes we don't want others to be nosy and read our conversations or see our friend list. So we can remove them by "deleting the conversation" or by changing their name in our friends' list.
Other times we are fed up with someone's annoying behavior, and excessive sending snaps all day. We want to block them, but we know it is insulting to do so. We can sidestep the problem by removing them from our friend list or hiding our stories from those particular users. So, that was all about how to hide someone on Snapchat. Hope you like the guide!