Our list of famous people with autism will leave you amazed. They've achieved so much in their lives despite the challenges that come along for them, including being an inspiration to us all! before we get started on this list of famous individuals who suffer from Asperger's Syndrome let me tell you what it is…
We'll start off by saying how incredible these folks were at doing something special when no one expected anything out-of-the-box but still managing not only to accomplish whatever task or goal was set before him/her
Famous people with Marfan Syndrome
What is ASD?
It is a developmental condition that is quite complex. ASD stands for Autism Spectrum Disorder, and it is a neurological disorder that affects communication and social skills. People with ASD often have difficulty interacting with others, and they may find it hard to understand or express emotions. They may also have repetitive behaviours or interests, and they may be sensitive to certain sounds, textures, or lights.
Patterns of behaviour differ from person to person that may include:
Repeating a certain behaviour for example Constant questioning about a thing.
Moving all the time.
A hyper behaviour.
Often get stuck to a certain activity or object.
Get upset when there's a change in their specified routine.
Talking about the causes of ASD, there's not even a single specified cause for autism spectrum disorder.it is believed to be caused by a combination of genetic and environmental factors. But it's generally accepted that abnormalities in brain structure may cause autism disorder in a child.
However, ASD can run in families, but the pattern of its inheritance is typically unknown.
Asperger's syndrome is high functioning autism. In which symptoms are present, but the necessity for support is least.
Moving ahead, history is full of the names of celebs and famous actors on the Autism Spectrum.
Famous Athletes With Autism
There is no one cause of ASD, but it is believed to be caused by a combination of genetic and environmental factors. There is no cure for ASD, but there are treatments that can help improve symptoms. With the right support in place, people with ASD can lead fulfilling and successful lives. Check out the list of famous athletes having autism, it may surely leave you amazed!
Jessica-Jane Applegate
Applegate, was born on 22 August 1996. She is a British Paralympic swimmer with intellectual disabilities. She was diagnosed with autism spectrum disorder but continued to achieve her goals.
Jessica began swimming at a young age. By the age of 13, she was already setting the regional records in swimming. That's the reason she's been placed on the list of famous people with autism.
Michael Brannigan
Brannigan, born on November 12, 1996, in New York. He is a track and field athlete. However, he was not allowed to compete at his college level because he was not able to meet the academic standards, as he was suffering from the ASD condition. He was diagnosed with autism in the early years of his life, at age 2.
David Campion
Campion, a snowboarder, was selected to represent Australia at the Special Olympics. His mom urges him to engage with Disabled Winter Sport Australia and from that point, Campion went to a few Special Olympics camps. He has since contend in the Asia Pacific Games, coming fourth.
Breanna Clark
Clark is one of the famous people with autism disorder spectrum. She is an American Paralympic competitor who has contends in T20 class races. Breanna knew to have Autism at four years of age.
Tommy Dis Brisay
Tommy is a runner, kayaker and cross-country skier from Ottawa, Canada. He was born in the year 1991, and know to have Autism at age 2 1/2. Tommy was non-verbal until age 7, yet could peruse and type words before he could express them.
Todd Hodgetts
Next on the list of famous people with Asperger's syndrome is Todd Hodgetts, born on 23 March 1988. Todd is an Australian Paralympic athlete with an autism spectrum who won a gold medal at the 2012 London Paralympics and a bronze award at the 2016 Rio Paralympics.
Lisa Llorens
Christina Llorens is an Australian Paralympic competitor, born on 17 January 1978. She spends significant time in Paralympic high hopping, long bouncing, and running, taking part in competitions with autistic athletes. However, Llorens is known as "The Cheetah" since she has an extraordinary liking for cheetahs.
Jason McElwain
Next in the list of famous people with autism is Jason McElwain, nicknamed J-Mac. He is an American novice competitor in both b-ball and long-distance races. As well as the public speaker with High-function autism.
McElwain came to popularity on public news in 2006, when he was playing basketball in secondary school. He scored twenty points and stunned the world.
Read More: How do you know if someone is suffering from Specific Learning Disability?
Max Park
Park is an American Rubik's Cube speed solver of Korean drop. In the past, he sets the world record normal of five 3x3x3 settles, 6.39 seconds, set on 23 April 2017 at OCSEF Open 2017. At the point when he was two years of age, he was determined to have moderate to extreme autism.
Moreover, the specialists told his guardians that he would probably need support for all of his life. And speedcubing has assisted him with creating support. Whenever we talk about famous people with autism, Max's name comes on the list.
Samuel Von Einem
Einem is an Australian table tennis player. He was born on 21 June 1995 with autism disorder spectrum. However, he began playing tennis at five years of age. Von Einem has represent Australia in table tennis at a few competitions since 2011 and has been chosen in the Australian Team at the 2016 Paralympic Games.
Moreover, he won the silver award in the Men's Class 11 at the Rio Paralympics and turned into Australia's first male table tennis medalist.
Famous Musicians With Autism
Next comes the autistic musician list who are great entertainers.
Tony DeBlois
DeBlois is a visually blind American musician suffering from autism. Tony came into the world on January 22, 1974. He was weighing under two pounds, being premature he must be provided with a lot of oxygen.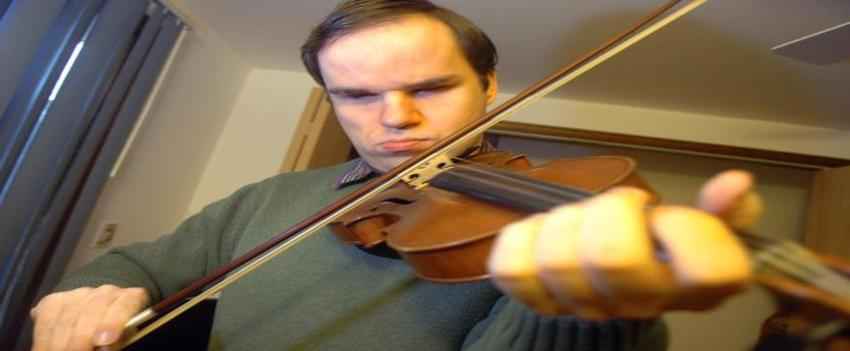 However, an excess amount of oxygen cause visual blindness and the doctors during this time were uninformed of this. Thus, Tony lost his eyes at only a couple of days old. While he started to play the piano at two years old.
Jody DiPiazza
DiPiazza is an American performer, singer, comedian and an advocate for ASD. She was born on October 3, 2001, and determined to have autism spectrum disorder at some point before her second birthday.
However, at age three, she started learning to play the piano having the option to hear a tune and replicate it. She additionally plays different instruments like drums, guitar, and clarinet. 
James Jagow
Jagow is one of the famous people with high-functioning autism. For him communicating with others was an exhausting thing, however, it was through music that he ultimately had the option to be heard.
Presently, he is the lead guitarist for the band Universal Mind which includes individuals with different incapacities. It is their objective to spread the message that one can survive through any obstacle. Moreover, James aims to urge others to drive forward through any difficulties.
Ladyhawke
Phillipa Margaret was born on 13 July 1979. Her stage name is Ladyhawke, while she is a New Zealand artist musician and multi-instrumentalist. She comes from a melodic family, with her mom being a vocalist-guitarist and her stepfather, a jazz drummer.
Being a kid, different diseases and sensitivities kept her all through the medical clinic. At age ten she was diagnosed with erysipeloid, a sickness that is normal in seagulls and sharks. Moreover, she has also been determined to have Asperger syndrome.
Rex Lewis-Clack
Lewis-Clack is an American musician, who was born on June 24, 1995. Rex came into the world in Southern California, with a type of visual blindness that is called Septo-optic dysplasia. However, Lewis-Clack started his life by getting training in the age of a half-year-old, at The Blind Children's Center in Los Angeles.
Thristan Mendoza
Mendoza is a Filipino mentally autistic. He was brought into the world in 1989 in Quezon City, Philippines. Thristan was enlisted at the Philippine Montessori Center and was analyzed as medically introverted at two years old and a half. During that very year, he started to play.
However, in the year 1997, the University of the Philippines introduced him as a skilled youngster with wonder.
Hikari Ōe
Next on the list of famous people with autism, who are musicians, comes Hikari, who is a Japanese writer. He was born on June 13, 1963, and was formatively handicap.
Specialists attempted to persuade his parents to allow their child to bite the dust, however, they wouldn't do as such. Even after surgery, Ōe remained disabled, with restricted actual coordination. He doesn't talk much.
Matt Savage
Matthew Savage is an American medically introverted academic artist. He came into the world in Sudbury, Massachusetts. Savage was an intelligent baby who strolled early and figured out how to peruse by the age of 18 months.
However, at age three he was determined to have spectrum disorder. He didn't care for any commotions or music during his initial childhood.
But at age six, Savage instructed himself to peruse piano music. He read traditional piano for not exactly a year prior finding jazz, which later turned into his main focus of life.
Famous Comedians With Autism
Here is our list of comedians who come on the radar of autism spectrum disorder.
Hannah Gadsby
Hannah Gadsby is an Australian entertainer and author who was born on 12 January 1978. While growing up, Hannah consistently felt she was extraordinary. She battled to peruse meaningful gestures, moreover, experienced difficulty, and put in a couple of living in a tent and doing cultivate work.
In any case, Gadsby, who's from Tasmania, had consistently been clever. Spontaneously, in 2006 she entered a stand-up comedy show and became the winner which was the turning point of her life.
Despite being a high-functioning autistic, she didn't restrict from earning a name. That is why today she comes in the list of famous people with autism who are known worldly.
Robert White
Next to count on our list of famous comedians with autism is Robert White. He got fame in 2018 by appearing on the program Britain's Got Talent. Exhibiting his affinity for sharp satire, Robert won fans everywhere in the country.
While he was making the country chuckle, Robert was also focusing light on Asperger condition. However, he is a good example and promoter for individuals with Autism.
Bethany Black
Bethany Black is an autistic English professional comic and entertainer. She was born in Chorley, Lancashire and had a childhood with so many troubles.
Bethany got to know about her autism in October 2017. She said in an interview, "I'd know for quite a long time, since the time my sister's twins Spike and Felix were analyzed and my sister told me about the things that I did when I was a kid".
Famous Writers With Autism
Here comes the list of some writers who never fail to show up the power of their writings.
Mel Baggs
Firstly comes Amanda Melissa Baggs, who was an American autistic writer and blogger. And dominatingly composes regarding the matter of ASD. Baggs was using a special gadget to talk and made a site "Getting the Truth Out," a reaction to a mission by the Autism Society of America.
Lydia X. Z. Brown
Lydia is an American autistic, additionally an activist of autism, author, lawyer, and public speaker who gets regard by the White House in 2013. Moreover, Brown was an understudy coordinator and promoter for handicaps.
Aoife Dooley
Aoife Dooley also comes into the list of famous people having autism. She is an Irish author, artist, comic and visual fashioner. Dooley at a young age has suffer a lot. Her dad left when she was quite young.
Moreover, her mother also left the world when she was 22. Later, Dooley was analyze as an autistic in 2018 which she has attributed with permitting her to feel more like herself and afterwards incorporate the mindfulness into her work.
Temple Grandin
Mary Temple Grandin is an American researcher and writer. She is an expert in the animals business on creature conduct and a spectrum disorder representative. Moreover, Grandin is one of the primary people on the autism range to record the bits of knowledge she acquires with her own experience of being autistic.
Naoki Higashida
Naoki Higashida is a Japanese writer and poet. He was born in Kimitsu, Japan in 1992 and know to have an extreme level of spectrum disorder when he was five years old.
However, he in this way figured out how to use an alphabet grid to communicate with people. And thus he started to compose short stories and poems. At thirteen years old he composed The Reason I Jump, which was much appreciated in Japan in 2007.
Liane Holliday Willey
Liane Holliday Willey, is a globally famous writer, ASD teacher and specialist. At 35 years of age, Liane was determined to have Asperger condition and this way her life zoom into the centre.
Unafraid to come out with the simple truth of the matter, Liane got enthusiastic about pulling together her focuses on diversity training.
Rosie King
Rosie King is a British author, public speaker and advocate for ASD. However, Lord determined herself to have autism spectrum disorder at 10 years old by finding out about it in the book Little Rainman: Autism – Through the Eyes of a Child which her folks had gotten to clarify her sibling's analysis.
Moreover, she authoritatively determines to have Asperger condition following a year-long cycle.
Thomas A. McKean
McKean is an American writer and instructor about autism. He is an artist, musician, global speaker and author.
Thomas says that he didn't talk until he was 16, however, had the option to describe how autism resembles him. However, he continually battles different indications like making weird commotions.
Jonathan Mitchell
Jonathan Mitchell is one of the famous persons going through autism. He is an American writer and mentally unbalanced blogger who pens down on autism. Mitchell was born in 1955 and at 12 years old, he was determined to have an autistic condition.
Moreover, as a child, he went to psychoanalytic treatment. He likewise went to standard and specialized curriculum schools confronting ejection and being tormented.
Caiseal Mor
Mór is an Australian science fiction and dream writer, craftsman and musician. As a youngster, Mór came in the autism range. This thing is however in his life biography A Blessing and a Curse; Autism and Me (2007).
Further, in his self-portrayal, he portrays the significant troubles he had as a kid with the judgment of others.
Famous Football Players With Autism
Lionel Messi
Lionel Messi, probably the most famous person in football history. You must be shocked looking at this name on the list!
Rumours or truth? Have a look below:
In 2013, the prior footballer and current legislator Romario alludes to an article saying that Messi experiences Asperger condition. Messi faces issues with perusing meaningful gestures and communicating with others when he was a kid. And these are common qualities of autism.
Moreover. the Australian site Autism Community Network (ACN) has a record of Messi as a celebrity individual with Autism spectrum disorder.
As per Cameron Ridgway for Wessex Scene, "there are unsubstantiated reports that Messi has Asperger's condition" at 9 years old.
At the point when Messi was a small kid in the 1980s and mid-1990s, he was known as 'el Pequeno mudito,' which signifies 'the little quiet' since he was not talking more often to his friends or family but rarely.
Celebrities With Autistic Children
Furthermore, in the vast list of famous people with autism comes the actor, actresses and celebrities with autistic children.
Ed Asner
Ed Asner " has a child and three grandkids with a mental disorder. The autistic Charlie is younger than all of Asner's four kids and suffers from autism. Moreover, he diagnoses with ASD in school-going years almost twenty years ago.
Robert DeNiro
The famous actor and producer, Robert De Niro, is also a father of an 18-year-old boy named Elliot, who has autism. In various interviews, he has revealed this fact and share his experience of raising an autistic child.
Moreover, he has many films which were based on the topic of autism, which shows that he has a close connection with autistics.
Jacqueline Laurita
Laurita is a popular television personality, born in Fort Monmouth, New Jersey. She firstly was hitched to Matt Holmes with whom she shares a daughter, named Ashlee. Later she got married once again to Chris Laurita, and with him, she had two children Nicholas and C.J.
However, Nicholas was determined to have autism. Laurita's husband runs a small business while the benefits are given to an organization that supports children with autism.
Joe Mantegna
Mantegna, an American actor-director and producer marries Arlene Vrhel on October 3, 1975. The couple has two little girls Mia and Gia. However, Mia was born in 1987 and she is autistic. Mia is a make-up artist. She has likewise shown up with her dad on KCAL-TV on the side of Autism Awareness Month.
Jenny McCarthy
McCarthy and John Mallory Asher hitches on September 11, 1999. They have a child, Evan, born in May 2002. In May 2005 they came to know that Evan was suffering from autism. McCarthy and Asher got separated in September 2005.
Paddy McGuiness
Paddy marries Christine Martin on 4 June 2011. The couple has three boys with twins Penelope and Leo and Felicity.
In 2017, it was uncovered that twins Penelope and Leo had been determined to have autism While later world came to know that all of the three are autistic.
Aidan Quinn
Quinn hooks with his co-star, Elizabeth Bracco in 1987. The couple is blessed with two daughters. Mia, born in 1998 while Ava Eileen came to the world in 1989 with an Autism spectrum disorder.
Holly Robinson Pete
Robinson hooks with Rodney Peete, a National Football League quarterback. They have four kids, the twins, little girl Ryan Elizabeth Peete and child Rodney Peete, born on October 17, 1997.
While Robinson Peete and Roman Peete were born in 2002 and 2005 accordingly. Moreover, Rodney Jr. one of their twins was determined to be autistic at age three.
As a parent it is quite challenging to raise your special needs child, it requires some extra courage and patience. Isn't it so?
Now let's have a look at some really interesting and informative questions about autism. This will surely amaze you!
FAQs
Who Was The First Person Diagnosed With Autism?
Donald Gray Triplett is the very first person to have autism. Gray is an American born on September 8, 1933. He was first analyzed by Leo Kanner, and was named "Case 1".
However, Triplett was noted for his academic capacities, especially the capacity to name melodic notes played on a piano. And the capacity to perform quick mental multiplication. At first, Donald was a profoundly contemplative kid who didn't react to his folks' signals or voices.
Moreover, he has no ordinary language, didn't play with different kids, and appeared to be inaccessible to others.
Can Autism Go With Age?
It is a considerable question whether an autistic child becomes normal with age or not? According to a study, if a child at an early age gets correctly diagnosed with autism spectrum disorders (ASD), so he/she may be able to lose symptoms with the passage of time.
There's another key finding that the severity of symptoms in children can change with age. In fact, they can improve to be better.
Moreover, ASD can usually show up its symptoms before the age of 3. This condition may last throughout a person's life, or even get worsen. Although the symptoms get to improve with the passing time.